How to Set up Online Ordering for your Dispensary or Delivery Service
Where'sWeed is happy to announce the full release of its new Online Pre-Ordering platform. With this, patients can how place pre-orders for pick-up or schedule a delivery to directly from your Where's Weed profile.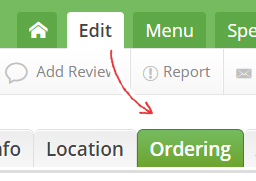 In our last article, we discussed the basics of online ordering and covered frequently asked questions. Today, we'll be walking through the initial online pre-ordering setup and several settings you'll want to adjust. If you haven't yet requested to activate online ordering, you may do so here.
Once you're approved, simply head on over to your business profile and click "Edit," followed by clicking on the "Ordering" tab.
Online Ordering Settings
This page will allow you to control specific online ordering settings, such as tax rates, deliver fees, hours and more. You'll find explanations of each setting below:
Tax Rate

This can be your city, state or municipal sales tax. If left blank, tax will be included in the product listing.

Delivery Fees

Setting up delivery fees forces your customers to select and pay for a specific delivery area. You can add as many of these as you would like, and simply drag and drop them to re-order.

Contact Points

Contact Points allows you to customize your points of contact so we can notify you when an order comes in. You can choose to receive email and text message notifications to a number of different addresses/numbers.

Delivery Hours

Set the hours you want to take online pre-orders. Please note: you may not want these to be the same as your store hours. If your shop closes at 7pm, you probably don't want people placing a pre-order 2 minutes before you shut your doors. Be sure to this this portion through carefully so you don't leave any patients hanging in the wind.
Enabling Products
Once you have adjusted your Online Pre-Ordering settings, head on over to your menu and select the items you'd like to have available for pre order. Simply edit items (bulk edit) and select: Pre-Order - > Available.
In the next help series we'll be going over the actual communication process once an order is placed.
Have a question or comment? Contact Us.